This may be the first live-action outing for the famous Mattel fashion doll line, but if you have an idea about what a Barbie film might entail, it might be time to think again. For a start, it's directed by Greta Gerwig (Lady Bird, Little Women) and written by her partner and frequent collaborator, Mumblecore maestro Noah Baumbach (Frances Ha, Marriage Story). In terms of expectations, then, all bets are off—although it's safe to say we're in for a more subversive take on the pop culture legend.
The film's cast offers another inkling that everything might not be as it seems in this particular Barbie world. Oscar-nominated A-listers Margot Robbie and Ryan Gosling head up the ensemble as Barbie and Ken while the likes of Shang-Chi's Simu Liu, Insecure's Issa Rae, Assassination Nation's Hari Nef, and new Doctor Who star Ncuti Gatwa reportedly playing variants of the two iconic characters. Will Ferrell, meanwhile, has been cast in a not-yet-officially disclosed role that is rumored to be the CEO of a Mattel-like toy company. Our guess? Much like the Ferrell-starring The Lego Movie, we could be in for a hilariously and unexpectedly meta adaptation. The first trailer has certainly gone for it, right down to its wholly unexpected homage to Stanley Kubrick's 1968 masterpiece, 2001: A Space Odyssey.
Oppenheimer
July 21
As one of the last auteurs able to get original ideas greenlit with nine-figure budgets, Christopher Nolan returns to World War II after he educated millions of Americans about the Dunkirk evacuation in 2017. Cillian Murphy plays the eponymous physicist in this ambitious biopic of J. Robert Oppenheimer, the "father" of the atomic bomb. He's backed by a typically starry, Nolan-esque ensemble including Emily Blunt, Matt Damon, Robert Downey Jr., Florence Pugh, Rami Malek, and Gary Oldman.
To be sure, Oppenheimer is one of the most fascinating figures of the 20th century, the man who the U.S. government turned to, to realize the creation of the first atomic bombs, which went on to win World War II but at a devastating cost on civilian lives in Japan. Oppenheimer is also famously the man who quoted Hindu scripture by uttering, "I have become Death, the destroyer of worlds" when seeing the destruction his weapon wrought. Later, he became the target of a government smear campaign that discredited him as a Communist sympathizer because he was a vocal critic of developing the hydrogen bomb.
In other words, there is a lot to mine from his life for an original movie. Although if we're being honest, it remains an open question whether a thought-provoking character study can still be a blockbuster for adults in a post-pandemic landscape… especially when it opens the same weekend as Barbie.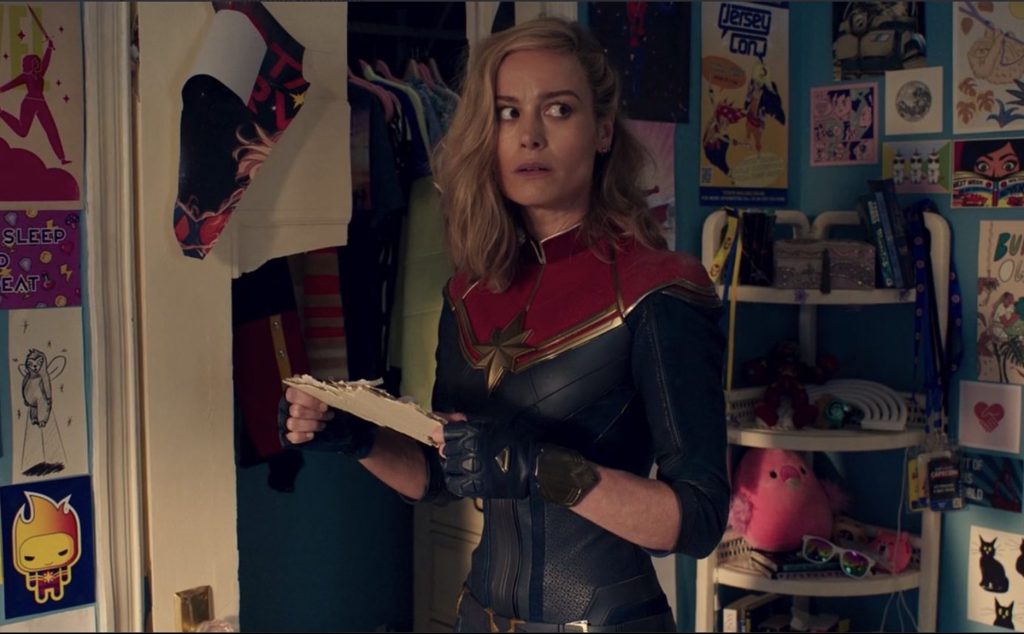 The Marvels
July 28
Brie Larson's Carol Danvers gets a team of her own in this cosmic sequel, which sees the mega-powerful Avenger joined by a grown-up Monica Rambeau (WandaVision's Teyonah Parris) and teenage mutant and Captain Marvel stan, Kamala Khan (Ms. Marvel's Iman Vellani).
Admittedly, the first Captain Marvel movie wasn't one of the strongest entries from Phase Three. Even so, Larson's Danvers remains one of the coolest and instantly most iconic additions to the MCU canon in recent years. She deserves a movie worthy of that iconography, and the fact that this installment is directed by Nia DaCosta, who helmed 2021's delightfully gruesome Candyman remake and the underrated indie Little Woods, fills us with hope that this one will deliver. And hey, Samuel L. Jackson returns as Nick Fury too!
The Meg 2: The Trench
August 4
Was the first Meg a good movie? Absolutely not. Will the sequel be better? Well… it is curiously directed by Ben Wheatley (A Field in England, Free Fire) so stranger things have happened? It also still stars Jason Statham and a big shark, so fingers crossed this one won't be a snoozefest.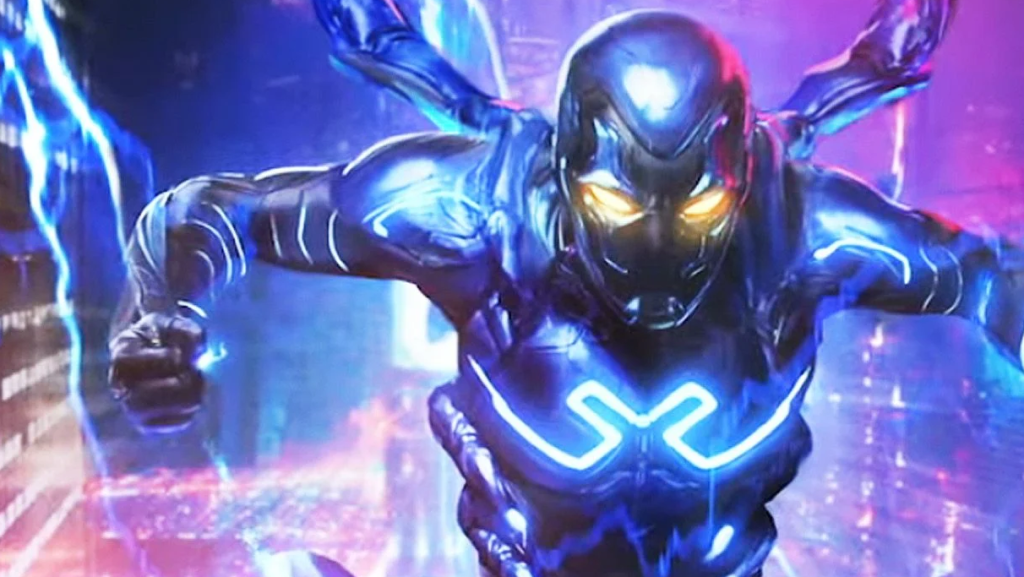 Blue Beetle
August 18
The only DC movie out this year that isn't a sequel to one of the films that began with the ill-fated "Snyderverse," Blue Beetle is the story of Jaime Reyes (Xolo Maridueña), a teenager who finds himself in the possession of a powerful scarab that outfits him in a suit of cool, toku-esque armor and grants him fabulous powers. The concept art and set photos look cool, but this is one of those DC projects that we don't really know what to expect from. Angel Manuel Soto (Charm City Kings) directs. George Lopez, Harvey Guillén, and Susan Sarandon also star.
Next Goal Wins
September 22
Director Taika Waititi's first original film since the Oscar-winning Jojo Rabbit, Next Goal Wins continues the director's love for underdogs by following one of the most infamous soccer teams in in FIFA history, the 2001 American Samoa team that had a notoriously brutal season where they struggled to win a single game. Yet there is more to this film than laughs, we suspect, with Next Goal Wins starring Michael Fassbender and Elisabeth Moss, as well as Waititi mainstay, Rhys Darby.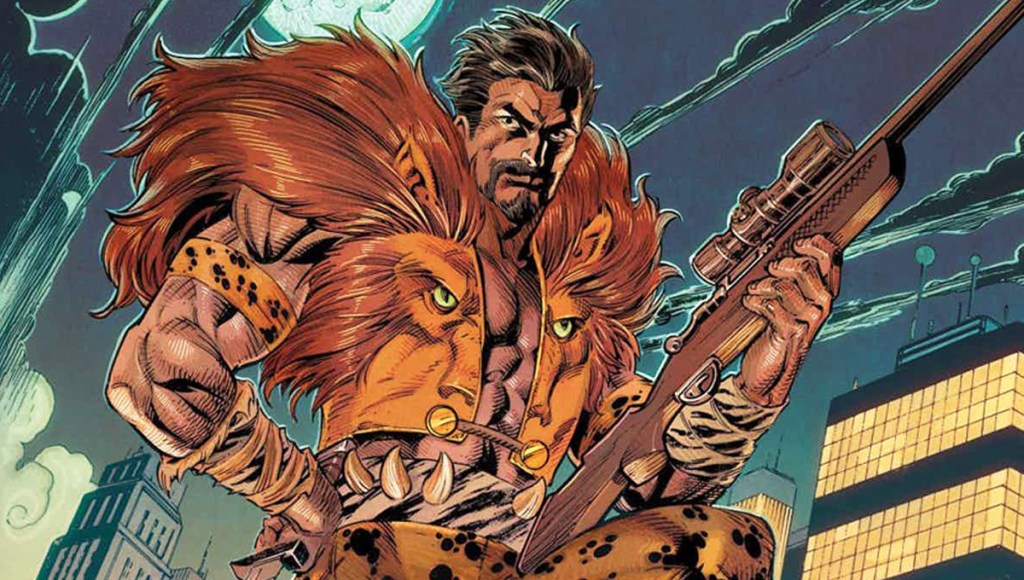 Kraven the Hunter
October 6
Sony Pictures continues their baffling attempts at turning Spider-Man villains into superheroes who never fight Spider-Man. In October, it's Kraven the Hunter's turn. If you don't know who that is, he's a character who in the comics is descended from Russian Tsars and fancies himself as the last Great White Hunter in the 19th century tradition. Onscreen, he's played by Aaron Taylor-Johnson (Kick-Ass, Nocturnal Animals) as a reportedly animal rights activist who fights against poaching.
There are plenty of reasons to be skeptical even before remembering the quality of Morbius and Venom movies, but to give Kraven the benefit of the doubt, we'll point out it's directed by J.C. Chandor who helmed some of the most underrated gems of the 2010s in A Most Violent Year (2014) and All Is Lost (2013). Maybe he can find an unlikely diamond in Sony's rough.
The Exorcist Sequel
October 13
Director David Gordon Green and producer Jason Blum try their luck again at making legacy sequels to 1970s horror classics with their untitled continuation of The Exorcist franchise in 2023. And to Green and Blum's credit, their Halloween reboot in 2018 was a very satisfying slasher that gave Jamie Lee Curtis a worthy swan song to her time as Laurie Strode… before making two more sequels that kind of ruined that.
This will give many pause about them playing around with an even more esteemed classic with this follow-up to William Friedkin's The Exorcist (1973), the highest grossing horror movie of all time when adjusted for inflation and one of the few to be nominated for Best Picture and Best Director at the Oscars. And to be honest, there hasn't been an exorcism movie to date that's lived up to Friedkin and author William Peter Blatty's vision (Blatty won an Oscar for adapting his own novel in the '70s). Still, we'll keep an open mind considering the follow-up convinced Ellen Burstyn to reprise her own Oscar-nominated role as Chris MacNeil. The film also stars Leslie Odom Jr.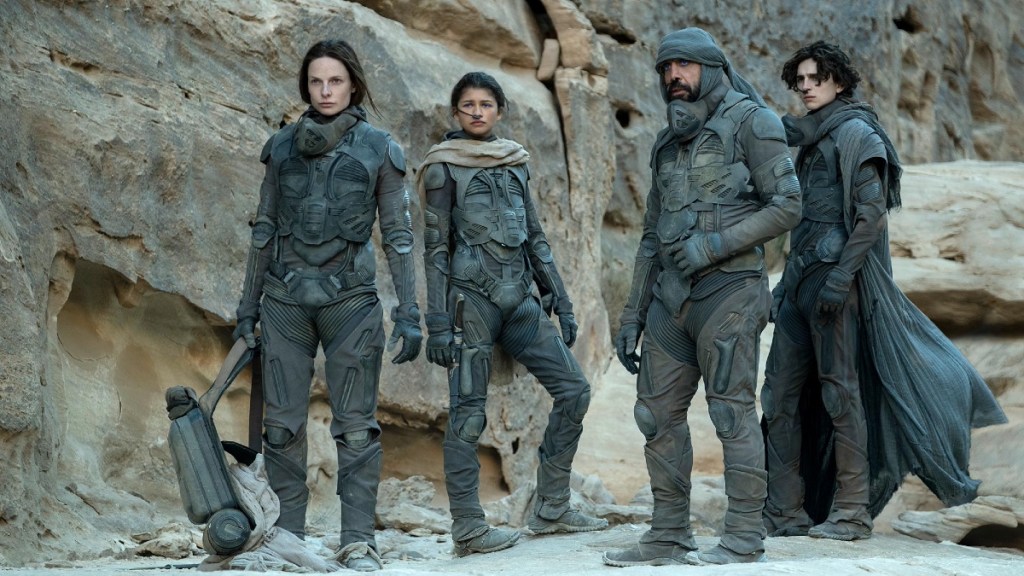 Dune: Part Two
November 3
Director Denis Villeneuve finishes his epic adaptation of Frank Herbert's seminal work of science fiction, Dune. Telling a story across two films when the second has yet to be greenlit is always risky, but 2021's Dune was a cinematic wonder in IMAX during its release and won audiences over by merging the weird, trippier aspects of Herbert's novel with popular A-list talent like Timothée Chalamet, Rebecca Ferguson, Oscar Isaac, Jason Momoa, and Zendaya (who despite appearing heavily in the marketing appeared in little better than a cameo onscreen).
Zendaya will get her chance to shine in Part Two, as will Chalamet's Paul Atreides as he and his mother, the Lady Jessica (Ferguson), are welcomed into the Fremen culture of the desert and plot their revenge against the Harkonnens after that dynastic house slaughtered Paul's father and most of his men. The second film should get into the real psychedelic properties of the spice melange, and also entice viewers with more popular young talent like Florence Pugh as the Princess Irulan, daughter of Emperor Shaddam IV (Christopher Walken), as well as Elvis sensation Austin Butler as Feyd-Rautha, Paul's callow doppelganger among the Harkonnens.
Dune remains one of the best sci-fi films of this century. Expectations are sky high for Villenueve to stick the landing here.
The Hunger Games: The Ballad of Songbirds and Snakes
November 17
Based on Suzanne Collins' recent prequel novel, The Ballad of Songbirds and Snakes takes us back 64 years to tell the origin story of the future President of Panem, Coriolanus Snow (played by Donald Sutherland in the previous Hunger Games movies). Set before Snow's descent to the dark side, this dystopian YA adventure finds a young Coryo (rising star Tom Blyth) trying to make a name for himself in the Capitol via his first encounter with the titular "games." West Side Story breakout Rachel Zegler co-stars as the tribute who's mentored by Coryo while the likes of Viola Davis, Jason Schwartzman, and Peter Dinklage lend solid support. Will the odds be ever in the prequel's favor?
Wonka
December 15
Timothée Chalamet takes over from Gene Wilder and Johnny Depp as eccentric chocolatier Willy Wonka in this prequel to Roald Dahl's classic children's tale, Charlie and the Chocolate Factory. Following Wonka's pre-factory adventures, the film is directed by Paddington's Paul King and co-stars Keegan-Michael Key, Rowan Atkinson, Sally Hawkins, and Olivia Colman.
Look, an origin story prequel to a beloved children's book? We admit it, we're skeptical. But hey, who would have thought Emma Stone's Cruella would be so delightful? Hopefully, this lands closer to that than the leaden Maleficent movies.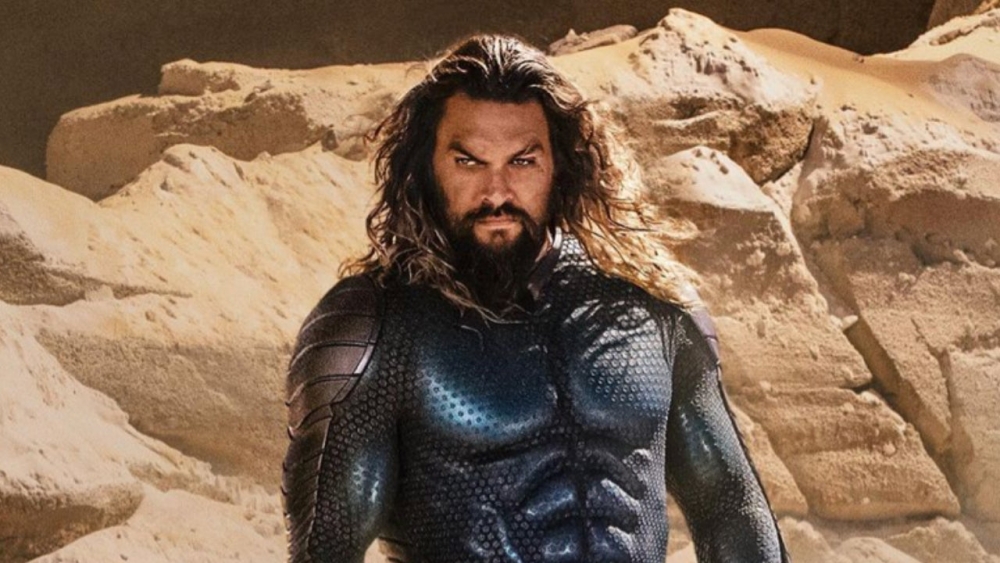 Aquaman and the Lost Kingdom
December 25
The film that very well could mark the end of the DCEU as we know it, Aquaman and the Lost Kingdom still has a lot going for it. For one thing, its predecessor pulled in a billion dollars at the box office. For another, it's got stars like Jason Momoa and destined-to-be-even-bigger Yahya Abdul-Mateen II in it. But most of all, it's got James Wan in the director's chair. Wan went all in on the worldbuilding and visuals of the first film, clearly relishing in every bonkers detail he could bring to DC's big screen Atlantis, making that film a lush, colorful, often bizarre experience. The director has cited Mario Bava's sci-fi horror Planet of the Vampires as an inspiration for this one, so we're here for whatever weirdness that brings.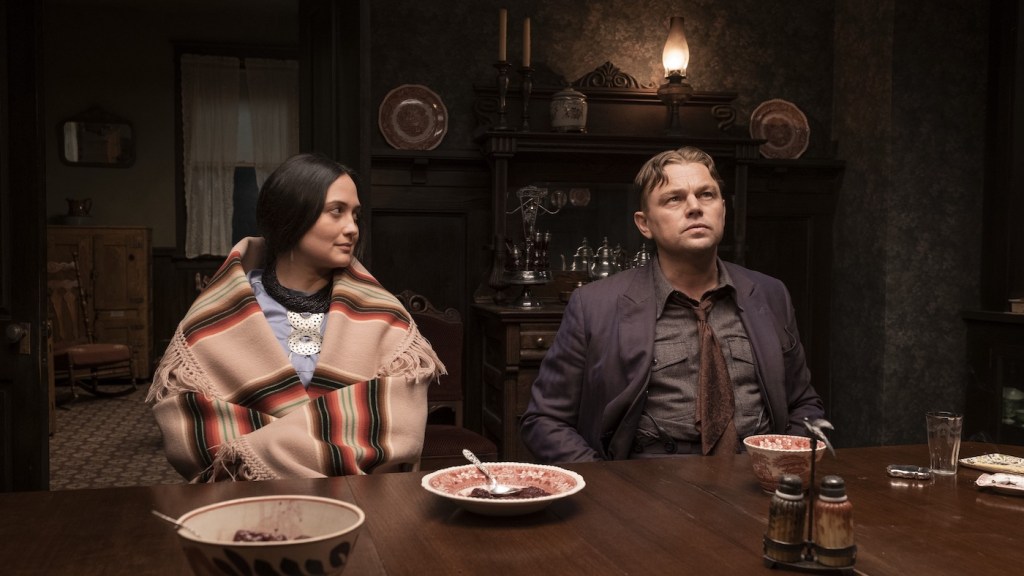 Killers of the Flower Moon
TBA
Martin Scorsese's first film since 2019's The Irishman comes with a lot of expectation, especially since this will mark the first time his two favorite leading men, Robert De Niro and Leonardo DiCaprio, co-star in a Scorsese movie. Yet for those who are familiar with David Grann's award-winning nonfiction book, Killers of the Flower Moon, there is more than just star power to be excited about in this Apple TV+ release.
Based on the shocking true crime events surrounding Osage County in the early 1920s, Killers of the Flower Moon recounts the sinister plot that led to the serial murders of dozens of Osage Native Americans, and the American legacy such evil has wrought. The film stars De Niro and DiCaprio, yes, but also Lily Gladstone as Mollie Burkhart, the Osage woman who insisted on getting the feds involved as a growing number of her family were discovered slaughtered, as well as Jesse Plemons, Tantoo Cardinal, Cara Jade Myers, John Lithgow, and Brendan Fraser. Scorsese co-wrote the screenplay with Eric Roth (Dune, Munich, A Star Is Born).
The Three Musketeers: D'Artagnan
TBA
There have been many, many movies based on The Three Musketeers. And all the ones produced by Hollywood have been rotten—save for whatever U.S. money went into Richard Lester's two-part British adaptation from the early '70s, which also remains the most faithful rendering of author Alexandre Dumas' text. Until now.
While Lester's starry English cast was very faithful to the plot of Dumas' rollicking novel, the '70s films also had their tongues firmly planted in their cheeks, almost mocking the characters' patriotic love of king and country. But director Martin Bourboulon (Eiffel) is taking a deeply serious tack in his French adaptation of a native classic. Like the Lester films, Bourboulon has split the book in two, dividing them as The Three Musketeers: D'Artagnan and The Three Musketeers: Milady, but both look as serious as a duel to the death—and they have the cast to prove it, including Vincent Cassel as Athos and Eva Green as Milady.
Unfortunately, the movies currently only have release dates in France, with part one debuting in April and part two arriving in December. With any luck English-speaking audiences won't have to wait too long for what is, judging by the trailer, exhilarating good fun.
Asteroid City
TBA
Described as Wes Anderson's largest ensemble film to date, Asteroid City promises to be a convergence of numerous interests for the filmmaker: youthful exuberance, middle-aged disappointments, and mid-20th century nostalgia. Set in a desert town during a fictional Junior Stargazer convention in 1955, Asteroid City follows parents and children alike as they embark on a weekend filled with love, discovery, and heartbreak.
Also in keeping with Anderson's last few live-action movies, the cast is sprawling, including (deep breath) Tom Hanks, Scarlett Johansson, Margot Robbie, Jason Schwartzman, Tilda Swinton, Tony Revelori, Jeff Goldblum, Jeffrey Wright, Adrien Brody, Maya Hawke, Bryan Cranston, Edward Norton, Steve Carell, Hong Chau, Sophia Lillis, Matt Dillon, Rita Wilson, and Willem Dafoe.
Napoleon
TBA
Whether you saw it or not, The Last Duel was one of the best movies of 2021 and a return to form for director Ridley Scott, who never seems to tire of drawing on history for inspiration while building cinematic worlds. Given the box office performance of that movie, it's perhaps for the best that his next picture is being produced by Apple TV+ though. Even so, it sounds nothing short of epic with no less at stake than a film about Napoleon Bonaparte.
Reuniting Scott with his Gladiator star Joaquin Phoenix to play Bonaparte, what makes this interpretation of Napoleon unique is the general's rise to emperor will be told not necessarily through battles but from the vantage of his relationship with his wife Joséphine, future Empress of France. Played by Vanessa Kirby (The Crown, Mission: Impossible – Fallout), Joséphine was a tempestuous equal to her husband and may provide a lens into the biography that bested even Kubrick.
Maestro
TBA
Bradley Cooper's sophomore effort as director after winning hearts and minds alongside Lady Gaga in A Star Is Born (2018), there's plenty of curiosity around Maestro, not least of which because the director/actor cast himself as Lenoard Bernstein—one of the greatest musical composers of the 20th century. Often remembered for his snowy haired appearance and love for numerous genres and styles of music, including his own migrations from writing symphonies and conducting the New York Philharmonic to writing operas, chamber music, and even Broadway musicals, including the masterful West Side Story, Bernstein doesn't naturally lend himself to comparisons to the usually smoldering Cooper. So we'll see. 
The film also stars Carey Mulligan as Felicia Montealegre, the love of Bernstein's life, Maya Hawke, and Sara Silverman.
Poor Things
TBA
After partnering on what some of us consider to be the funniest movie of 2018, the bleakly dark The Favourite, director Yorgos Lanthimos and screenwriter Tony McNamara are reteaming for Poor Things, an adaptation of Alasdair Gray's novel of the same name. That book centers around a pregnant woman who drowns while trying to escape her abusive husband. Afterward, the monster has the bright idea to resurrect her from the dead… but with the brain of his unborn baby rendering her a helpless infant.
So yeah, a pretty grim riff on Frankenstein with nightmarish implications. In other words, a perfect breeding ground for a Lanthimos movie. The film also reunites the filmmaker with Emma Stone, who plays the reanimated woman, and Willem Dafoe as the mad scientist….