New Music
September brings a new record from Olivia Rodrigo, performances from Tove Lo and Lil Yachty, and more
Welcome back, Terriers, to our monthly column "What's Hot in Music This Month."
We're excited to see you all back on campus as another school year begins. September has some super exciting releases and local concerts in store. Olivia Rodrigo drops her highly anticipated sophomore album, GUTS, and Ed Sheeran has a brand-new album to get us into the autumnal spirit. Plus, Greta Van Fleet is coming to rock TD Garden and Lil Yachty is bringing the party to Citizens House of Blues Boston. There's lots to look forward to, so let's jump in.
New releases
Since her debut hit single, "drivers license" dropped in 2021, Olivia Rodrigo has been at the forefront of pop music. It seemed like the entire world was singing every word to the tracks off SOUR, her Grammy Award–winning debut album. On September 8, the pop princess is returning to the music scene with her highly anticipated new album GUTS. With recent singles "vampire" and "bad idea right?" Rodrigo showcases her uncanny ability to make relatable, fun, and brutally honest music. She delivers emotional one-two punches ("you can't love anyone 'cause that would mean you had a heart"), while making viral-ready TikTok bangers. It's a difficult line to walk, but GUTS is sure to be yet another reminder of the young star's astounding musical prowess.
---
Nobody can write a country song like Tyler Childers, who Rolling Stone dubbed "the 21st century voice of Appalachia." His trademark blend of country, folk, and Americana tugs on the heartstrings. With honest and relatable songs like 2017's "Lady May," a self-deprecating love letter to Senora May, now his wife, Childers' music elicits deep feeling. In an era when LGBTQ+ Americans are often the subject of discrimination and violence, Childers' groundbreaking music video for the album's lead single, "In Your Love," offers a strong note of support for the community. Childers collaborated with New York Times best-selling queer author Silas House to come up with the storyline for the video. House's plot centers on two men in rural Appalachia who fall in love in the 1950s. It's beautiful and meaningful, a perfect introduction to Childers' new album, which releases September 8.
---
Mitski is a perfect example of the "reclusive superstar," joining the ranks of venerable icons like Joni Mitchell and Kate Bush. Nobody really knows too much about her or what she does; every few years, she reappears to release incredibly raw, heart-wrenching music and perform concerts that feel more like mesmerizing performance art, before once again dropping out of the public eye. Last year's record, Laurel Hell, showed a new side to the artist, where she embraced elements of '80s synth pop on songs like "The Only Heartbreaker," next to the industrial clang of "Working for the Knife." She's called her latest album—slated for release September 15—her "most American album," and the lead single, "Bug Like an Angel," proves she's still at the top of her game.
---
Hot off his stellar performance at BU's Spring Concert at Agganis Arena back in April, Polo G is releasing his fourth studio album on September 15. The title is both catchy and meaningful: HOOD POET is an acronym for "He Overcame Obstacles During Pain Or Emotional Trauma." Over the course of 18 tracks, the singer-songwriter opens up about grief and his struggle to remain strong amid life's challenges. "Barely Holdin' On," one of the album's singles, sees him come face-to-face with his own mortality and the public perception of him as an artist. Featuring the rapper's signature melodic style, the track is a perfect preview of what's in store on the rest of the album and offers proof that this is an artist who gets better and better with each release.
---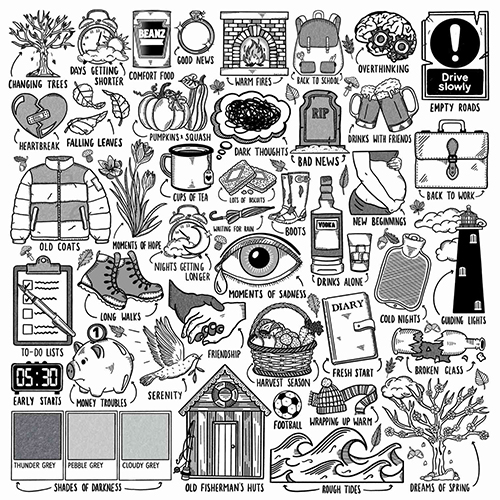 Although only four months have passed since Ed Sheeran released his sixth studio album, Subtract, he's out with a new album, much to the delight of his fans. As the title suggests, his latest project is inspired by autumn. The cover features hand-drawn motifs of the season, such as trees with changing foliage and longer nights. Physical versions of the album will even come with a blank cover and stickers, so you can create your own personalized cover. Sheeran, who created the album with producer Aaron Dessner, was inspired by Edward Elgar's famous Enigma Variations, the stories of 14 of the composer's friends across 14 compositions. For Autumn Variations, Sheeran wanted to capture not only the sounds of the season, but also the life changes he and those around him were going through at the time. You can hear the full album on September 29.
---
Upcoming concerts
Tove Lo
You may remember Tove Lo from her 2014 pop culture reign with hits like "Habits" and "Talking Body." On September 12, the Swedish star, known for her progressive and eclectic indie pop sound, is bringing her newest album, Dirt Femme, to life on the Roadrunner stage. The album's opening track, "No One Dies from Love," is a perfect example of her distinct style: a catchy melody, layered harmonies, and synth-heavy production. Tove Lo always delivers fun and high-energy performances, so strap in and get ready for an incredible night.
Becky G
The 26-year-old singer-songwriter skyrocketed to fame by "dancing in the mirror and singing in the shower" in her 2014 pop hit "Shower," and this month she'll be hitting the stage at Roadrunner. The multiplatinum Latin pop singer has earned two Latin Grammy Awards and multiple nominations, including Best Urban Song for her 2022 global smash "MAMIII," featuring popular Colombian musician Karol G. And it's easy to see why Becky G has seen such immense success: her infectious melodies and deft ability to flit between genres make her a bona fide superstar. Her show on September 14 is definitely one you won't want to miss.
Greta Van Fleet
With their 2023 album Starcatcher, Michigan rock band Greta Van Fleet proved they know where they come from and where they're going. The anthemic album is firmly rooted in the rock sounds of the '60s and '70s, yet with the progressive, new-age spin the band is known for. They're making a stop at TD Garden on their Starcatcher Tour. With soaring vocals from lead singer ​​Josh Kiszka, Greta Van Fleet knows how to fill an arena. Even though they've only released three albums, these musicians are exceptionally seasoned performers—and they're coming to show, yet again, why they're the ones to watch.
Mt. Joy
The incredible indie rock band Mt. Joy debuted back in 2016 and has had a somewhat unexpected rise to popularity. Frontman Matt Quinn told Billboard that he hadn't intended to pursue music. He was writing and recording what would become the band's debut single, "Astrovan," while working full-time and taking law classes at night. After the song started to blow up, Quinn dropped out of school to pursue music with the rest of the band—and alternative music changed forever. Now, seven years later, the band is touring the world, and you have not one, but two chances to see these electrifying performers later this month.
Lil Yachty
It's hard to hear a Lil Yachty song and not start dancing. The Grammy-nominated rapper has released a steady stream of hits in his signature "bubblegum trap" style and cultivated a dedicated fanbase. With collaborations from music royalty like Drake, Mike WiLL Made-It, Katy Perry, Wiz Khalifa, and more, Lil Yachty has proven himself to be a once-in-a-generation musical talent. His 2023 album Let's Start Here is an incredible blend of his classic sound mixed with psychedelic rock influences. His Field Trip Tour is sure to be a night to remember, so get your tickets now.
This Series
Also in
What's Hot In Music This Month

Series home