The highly anticipated "Barbie" movie, starring Margot Robbie and Ryan Gosling, is in theaters now, but there have been multiple controversies leading up to the film's release.
After years in development, with different writers and stars attached, including comedian Amy Schumer and Oscar-winner Diablo Cody, the film went into production with Robbie starring as the iconic doll.
But as soon as the first full trailer for the movie arrived, controversies began to stir.
Some fans complained about Ryan Gosling's casting as Ken, and as the marketing blitz for the film began, several international issues arose, from a raunchy translation on the French poster to the film being banned in Vietnam.
OSCAR-WINNING SCREENWRITER LEFT FAILED SONY 'BARBIE' MOVIE BECAUSE STUDIO WANTED 'GIRL-BOSS FEMINIST TWIST'
"Barbie" has also faced claims that it is an overly woke story about the children's doll, with one site writing, "Warning: Don't take your daughter to Barbie."
Here are some of the controversies "Barbie" faced during its journey to the big screen.
Ryan Gosling's Ken
When the first full trailer for the movie was released in April, some fans criticized Gosling as being too old to play Ken, opposite Robbie's Barbie.
"Ryan Gosling is too ugly and too old to be playing ken, they should've casted Henry Cavill or Chris Evans bye," declared one person on Twitter at the time.
Others came to his defense. "I just cannot believe that we live in a world where people think Ryan Gosling is either 'too ugly' or 'too old' to be playing a live action Ken doll. Y'all can't be serious. So incredibly mean & untrue & he will truly be the clear standout in that film," one person wrote.
Before "Barbie's" release, Gosling addressed some of the controversy surrounding his casting.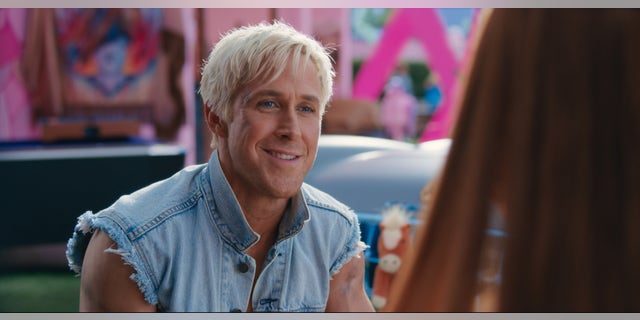 MARGOT ROBBIE SHARES THE 'DORKY' ACTRESS WHO TURNED DOWN 'BARBIE,' EXPLAINS WHY ICONIC DOLL IS NOT 'SEXY'
"I would say, you know, if people don't want to play with my Ken, there are many other Kens to play with," he told GQ in May.
"It is funny, this kind of clutching-your-pearls idea of, like, #notmyken," he continued. "Like you ever thought about Ken before this?"
The 42-year-old also spoke about some people's reactions to Ken being a sort of secondary figure to Barbie in the movie.
Gosling explained that Ken's "job has been beach" since the doll's introduction in 1961, two years after the original Barbie doll.
"And everyone was fine with that, for him to have a job that is nothing. But suddenly, it's like, 'No, we've cared about Ken this whole time.' No, you didn't," the "La La Land" star said. "You never did. You never cared. Barbie never f—– with Ken. That's the point."
"If you ever really cared about Ken, you would know that nobody cared about Ken. So your hypocrisy is exposed," Gosling added.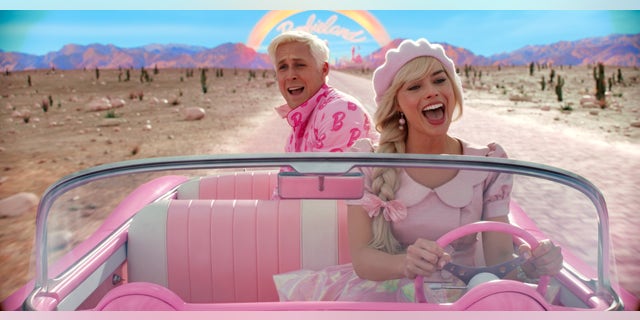 OSCAR-WINNING SCREENWRITER LEFT FAILED SONY 'BARBIE' MOVIE BECAUSE STUDIO WANTED 'GIRL-BOSS FEMINIST TWIST'
The tagline for the poster does indicate that Ken doesn't have as much going on as Barbie. It reads, "She's everything. He's just Ken."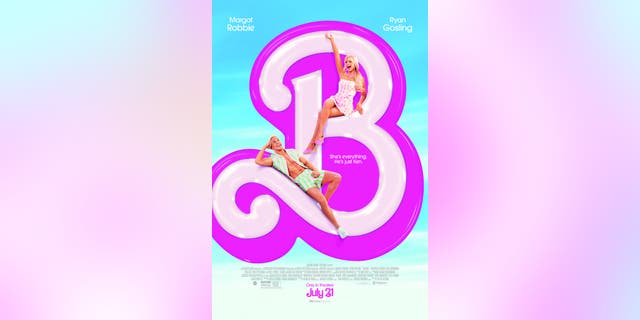 NSFW French Poster
The film's tagline caused a stir when it was translated for the French poster, going viral for a dirtier meaning that may or may not have been intended.
According to The Hollywood Reporter, the tagline in French reads, "Elle peut tout faire. Lui, c'est juste Ken" – meaning "She can do everything. He's just Ken," a fairly close match to the original English.
However, "Ken" has a double meaning in French slang, meaning the f-word, making the tagline "She can do everything. He just knows how to f—."
Whether or not the double entendre was intentional is up for debate, but, according to a French marketing executive from a different studio who spoke with THR, there was no other way for it to be taken.
"It's definitely deliberate; there's no way a French speaker wouldn't have noticed the dirty pun," they said. "It's sort of genius, really, that they slipped that in."
In a statement to The Hollywood Reporter, Warner Bros. Discovery said, "The speculation around the Barbie marketing campaign shows that there is a high level of awareness and major excitement from the public surrounding the upcoming release of our film in France. We can't wait for audiences around the world to see the film upon its release next month."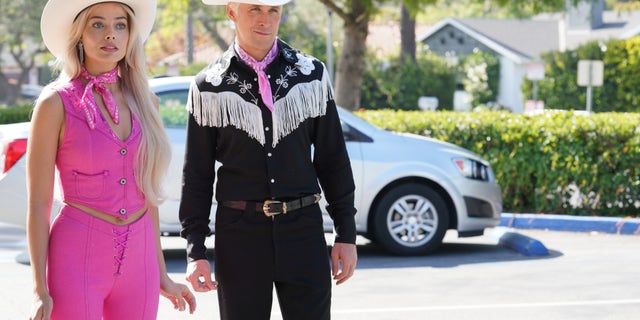 WARNER BROS. DENIES 'BARBIE' MAP ENDORSES CHINA'S DISPUTED TERRITORIAL CLAIMS: 'MAKE-BELIEVE'
"Barbie" Banned in Vietnam
Earlier this month, "Barbie" was banned in Vietnam due to a scene featuring a map that shows China's unilaterally claimed territory in the South China Sea, which the country said violates their sovereignty.
According to Variety, the director general of the Vietnam Cinema Department told the state-run newspaper Tuoi Tre, "We do not grant license for the movie 'Barbie' to release in Vietnam because it contains the offending image of the nine-dash line."
The controversial "nine dash line" is used on maps to illustrate China's claims over areas of the South China Sea, including portions Vietnam considers its own. In 2016, The Hague ruled the line invalid, and, according to Variety, while the resolution is binding, China has said it does not recognize the decision.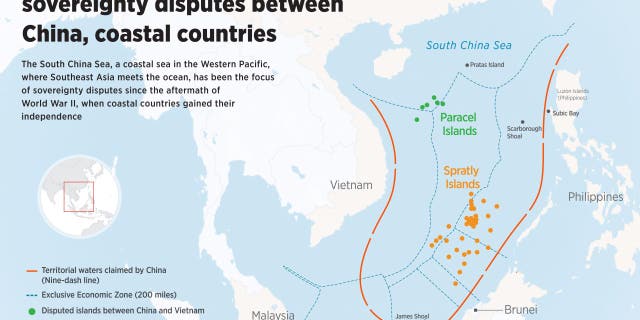 A Warner Bros. Film Group spokesperson told Variety, "The map in Barbie Land is a child-like crayon drawing. The doodles depict Barbie's make-believe journey from Barbie Land to the 'real world.' It was not intended to make any type of statement." 
The government in the Philippines also considered banning the film over the drawing but decided against it.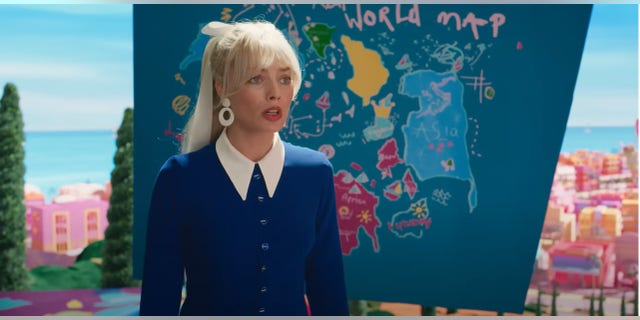 CHINA REACTS AFTER 'BARBIE' MOVIE DEPICTS CONTROVERSIAL MAP FAVORED BY BEIJING
According to THR, the country's Movie and Television Review and Classification Board (MTPCB) said in a letter released to the public that the board found there was "no basis to ban the film." 
It did request the image be blurred to ensure audiences wouldn't "misinterpret" the scene.
The overall plot of "Barbie" will follow Robbie's main Barbie character as she experiences an existential crisis and visits the real world in a journey of self-discovery, accompanied by Gosling's Ken.
Woke "Barbie"
The world of "Barbie" is populated with an all-star cast playing a wide variety of Barbies and Kens, including "Insecure" star Issa Rae, "SNL's" Kate McKinnon, and Marvel star Simu Liu.
Liu spoke about the diverse array of dolls come to life in an interview with Screenrant's Joe Deckelmeier in July, highlighting how the movie challenges "heteronormative" ideas about gender.
"You know, colors became gendered, toys became gendered, there were all these rules that were imposed on us," he said. "So, Barbie was always like, 'Oh that's not my toy. That's on the other toy'. And I'm so glad that this movie exists because I think it puts the final nail in the coffin of that very heteronormative idea of what gender is, and what is or is not gendered. How can you make a color gendered, you know?"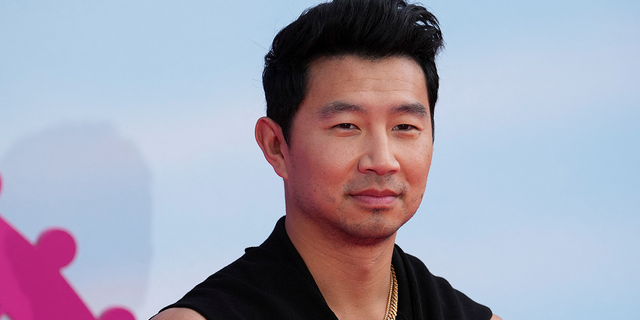 "That's, I think, what's really struck me about being in this movie, what's evolved in my understanding of Barbie and what it is, and what I hope that an audience will get from it when they watch the movie," he added.
'BARBIE' ACTRESS KATE MCKINNON CLAIMS FILM SHOWS HOW 'GENDER ROLES DENY PEOPLE HALF THEIR HUMANITY'
"Barbie" also features transgender actress Hari Nef, who told Out Magazine the movie has an empowering message about being transgender.
"As much as there's a celebration of femininity and being a girl in this [movie], I think there's also an encouragement of letting go of the checklist we ascribe to living and living your life and being in your body your way, on your own terms," Nef said.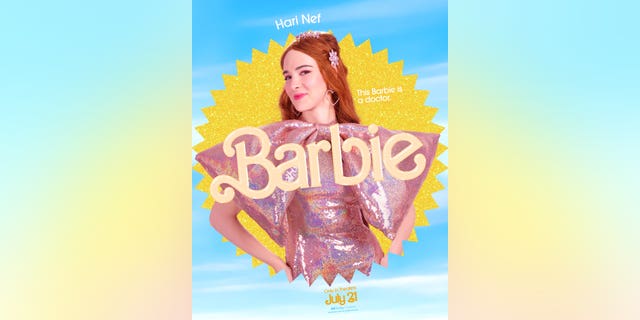 The faith-based film review site, Movieguide, took issue with what they consider an abandonment of the core audience for a Barbie doll movie, families and young girls, in favor of LGBTQ stories.
"The new BARBIE movie forgets its core audience of families and children while catering to nostalgic adults and pushing lesbian, gay, bisexual and transgender character stories. Furthermore, the movie was poorly made with multiple premises, losing even the most die-hard fans," a review written by the site's staff said.
CLICK HERE TO SIGN UP FOR THE ENTERTAINMENT NEWSLETTER
It continued, "They had a built-in market and audience for this franchise that they completely ignored. Millions of families would have turned out to the theaters and purchased tickets, but instead, Mattel chose to cater to a small percentage of the population who has proven over and over to abandon the box office."
Robbie did not address that specific review, but said in a recent interview with ABC News Australia that the movie is meant for all audiences.
She was asked if the movie was for kids, and Robbie answered, "This is such a thing people say when they do press for a movie. They're like, 'It's for everyone.' But it was literally crafted to be for everyone."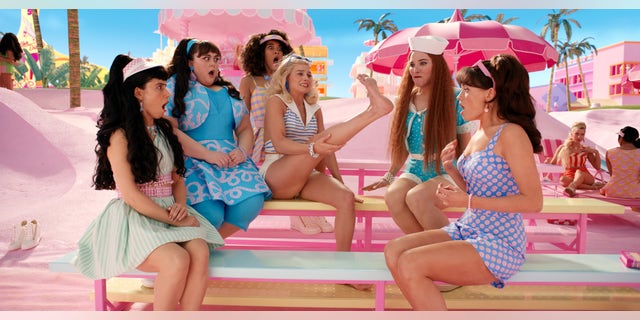 CLICK HERE TO GET THE FOX NEWS APP
The film's co-writer and director, Greta Gerwig, described the film to the outlet as "feminist," but in a broader definition.
"It's feminist in a way that includes everyone. It's a rising tide lifts all boats version of it," Gerwig said.
Fox News Digital's Kristine Parks and Gabriel Hays contributed to this report.