Streaming

The best of what's new on Netflix, Hulu, HBO Max, Disney Plus, and more.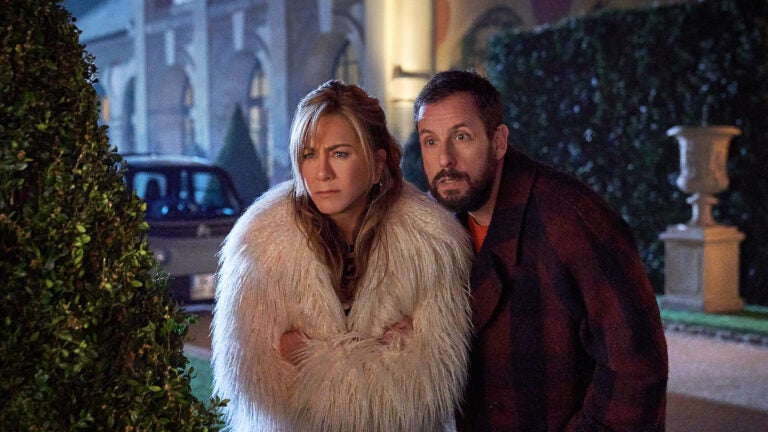 Welcome to Boston.com's weekly streaming guide. Each week, we recommend five must-watch movies and TV shows available on streaming platforms like Netflix, Hulu, Amazon Prime, Disney+, HBO Max, Peacock, Paramount+, and more.
Many recommendations are for new shows, while others are for under-the-radar releases you might have missed or classics that are about to depart a streaming service at the end of the month.
Have a new favorite movie or show you think we should know about? Let us know in the comments, or email [email protected]. Looking for even more great streaming options? Check out previous editions of our must-watch list here.
Movies
"Knock at the Cabin"
Despite widespread critical scorn in the late aughts, director M. Night Shyamalan ("The Sixth Sense") has never really stopped making movies. Critics and fans alike have come back around on the director in recent years, thanks to films like "Split" and "Old" that deliver on Shyamalan's trademark twists. "Knock at the Cabin" isn't exactly like his previous works, though some of the hallmarks are still there. When a gay couple and their adopted daughter rent a remote cabin, they're visited by a thinly veiled four horsemen of the apocalypse, led by WWE wrestler turned actor Dave Bautista ("Guardians of the Galaxy"). The family must make an unspeakable choice, or else the world will end — at least that's what the four visitors claim. Shyamalan has some big ideas, and doesn't see all of them through to fruition. But there's a lot to like about "Knock at the Cabin," especially from a technical perspective: No one builds an eerie atmosphere through nimble camerawork and spine-tingling sound design like M. Night.
How to watch: "Knock at the Cabin" is streaming on Peacock.
"Murder Mystery 2"
We're heading into year four of the mystery movie boom fueled by "Knives Out," and Netflix is doubling down on the genre — not only with last year's "Knives Out" sequel, but with a second entry in the "Murder Mystery" franchise helmed by Adam Sandler and Jennifer Aniston. With the married couple's detective agency floundering, Nick (Sandler) and Audrey (Aniston) take a break to attend the island wedding of their pal from the original film, the Maharajah (Adeel Akhtar). When their wealthy pal is kidnapped, Nick and Audrey try to unravel the mystery, even as those around them doubt their (admittedly amateurish) abilities. The plot is feather-light, and the twists plain as day. But Sandler and Aniston are a lot of fun as the bickering couple, and that's all that really matters given the breezy 89-minute runtime.
How to watch: "Murder Mystery 2" is streaming on Netflix.
"Tetris"
Wait… a video game movie about Tetris? That game with the falling blocks? It may surprise you to learn that the story of how Tetris became one of the most popular video games in the world is a pulse-pounding political spy thriller involving wealthy international businessmen, double-crossing, and the fall of the Soviet Union. The film begins with Dutch entrepreneur Henk (Taron Egerton, "Rocketman") finding Tetris at a consumer electronics show. Smitten, he buys the international licensing rights to the game developed by a Russian software engineer on sight. But the KGB — not to mention two other businessmen who have already been promised the rights — have other ideas. The visuals of "Tetris" border on overblown, with pixelated interstitials introducing us to the main characters as "Player 1" and "Player 2." But once the film gets going, you'll be caught up in the international intrigue. And you'll likely be rooting for Egerton, who always brings a little something extra to leading man roles.
How to watch: "Tetris" is streaming on Apple TV+.
TV
"Rabbit Hole"
Last week, we recommended "The Night Agent," a spy thriller that owed a debt of gratitude to early Tom Clancy films and perhaps to Fox's high-octane drama "24." Now that seminal show's star, Kiefer Sutherland, is back in a spy thriller of his own with Paramount+'s "Rabbit Hole." John Weir (Sutherland) is a ruthless corporate "fixer," ruining the reputations of companies or public figures for his wealthy clients. (For a real-life example, read this recent New Yorker profile.) Given his line of work, it's no surprise that John ends up in the crosshairs of a mysterious cabal who frames him for the murder of a treasury department agent. Very quickly, Sutherland launches into "24" mode, albeit as a 50-something Jack Bauer who can't take stairs as quickly as he used to. Watching Sutherland growl and grimace as he races against the clock — though not a literal, visible clock like in "24" — remains a guilty pleasure. It remains to be seen whether "Rabbit Hole" can maintain its momentum for an entire season, but the first few episodes offer a lot of promise.
How to watch: "Rabbit Hole" is streaming on Paramount+.
"Yellowjackets"
"Yellowjackets" was a bonafide pandemic smash for Showtime, earning seven Emmy nominations and renewals for a second and third season following its November 2021 debut. The show follows two timelines: In 1996, a high school soccer team's plane crashes in the Canadian wilderness leading to a 19-month "Lord of the Flies" survival of the fittest situation; and in 2021, when the survivors of that ordeal attempt to move on with their adult lives while forgetting the horrible things they did. Season 2 has already offered more of the same that made its freshman season a smash hit: Stellar performances from the likes of Melanie Lynskey, Christina Ricci, and Juliette Lewis; and a genuinely shocking plot that veers between darkly funny and deeply disturbing.
How to watch: "Yellowjackets" is streaming on Showtime and on Paramount+ (with Showtime add-on). New episodes begin streaming Fridays before airing Sundays at 9 p.m. on Showtime.
Newsletter Signup
Stay up to date on all the latest news from Boston.com